eScrip

Help Addison earn money by participating in eScrip!
eScrip has proven to be a fantastic resource for fundraising where participating business partners contribute a percentage of your grocery loyalty cards, credit card, and debit/ATM card purchases to the school, group or organization of your choice.
Your participation makes a difference:
* Most participating merchants contribute between 1% and 3% of your eligible purchases, and many contribute up to 5%!
* Every September eScrip partners with Safeway to contribute 10% of your eligible purchases to Addison!
* In 2009, the Addison PTA earned over $5500 in contributions from eScrip merchants!

Here's How it Works:
• You register any one or all of your existing grocery loyalty, debit and credit cards for use in the program.
• Participating merchants will make contributions to your chosen group, based on purchases made by you, just by using the cards you have registered.
• Your purchases are tracked and available to you online, allowing you to see just how much you are earning on your child's behalf!
Click on the image above to get started on eScrip now.
Don't forget to use the ADDISON SCHOOL GROUP ID# 125315459
Shop the eScrip Online Mall to earn even more money for Addison! 
If you start online shopping from the eScrip "online mall" link below, even your online purchases will contribute to Addison -- including purchases from major merchants such as Amazon!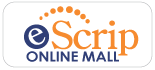 Questions?

If you have any questions or need assistance signing up, please contact our eScrip Coordinator, Deri McCrea at derimccrea@gmail.com or Melissa Hopkins at moplehopkins@yahoo.com.